Floating Contact Form Portlet
Back Boat design and construction - Building trust: When shipments need the pledge of protection
Our client needed a service that understood not just the economic value of their goods, but also the passion of the people who developed them.
Customer:
QUANTBOATS AG from Lucerne, Switzerland
Industry:
Boat design and construction
Solution:
KN Pledge, a premium Full Container Load (FCL) solution that guarantees a lead time covering all delivery combinations from port-to-port to door-to-door
---
Facts:
Reliable transport of high-quality boat parts from Australia to Switzerland
All-in-one logistics solution
Extended cargo liability
CO2-neutral transport
---
QuantBoats, a boat designing and construction company based in Lucerne, has set itself the goal of bringing fast and light sailing boats into the market – they wish to construct boats with wing systems that support boat stability. In 2015, the company launched the Quant 23, the world's 1st monohull yacht with keel as a flying boat. This was a milestone in boat development. Other developments in cooperation with the company, like the foil dinghies Skeeta and Nikki, are manufactured in Australia by Skeeta Foiling Craft.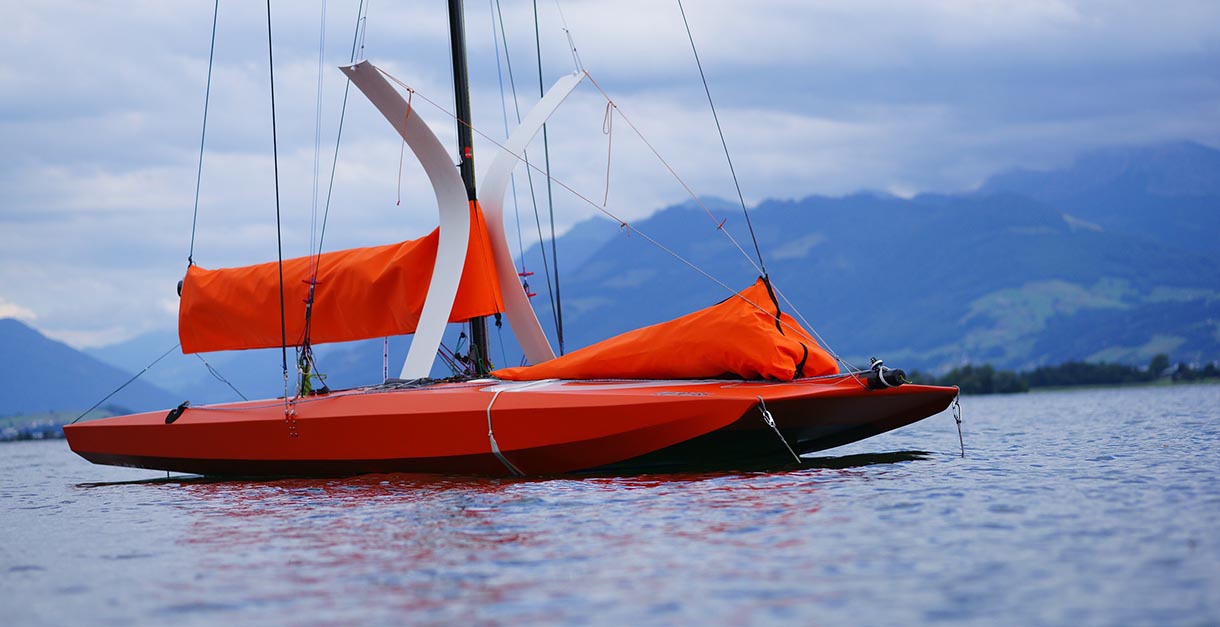 These boats are packed in separate pieces in a container in Australia and then imported into Switzerland. Since the boats are made of very light material, the container can be unloaded manually on site, and within an hour, a finished sailing boat is ready for delivery to the end customer.
The most important logistical question for QuantBoats through this whole process, however, was figuring out the safest routing to Switzerland. The goods that are shipped from Australia provide not just economic value for the company, but are at the core of what the founders and owners, Michael Aeppli and Maximillian Schmid, wish the company to represent. They have put their hearts and souls into the development and production of these boats – it is one of their biggest passion projects. Therefore, it was particularly important to them that the pre-produced boat parts were shipped safely and would reach the end customer on time. Keeping all these things in mind, the company quickly decided to use Kuehne+Nagel's full container solution KN Pledge, which offered them robust delivery planning, with guaranteed delivery times. Our service, which provides a money-back guarantee and an extended cargo liability insures the cargo against damage to the amount of USD 100,000, seemed like the best fit for what they wanted.
Maxmilian Schmid, one of the QuantBoats founders, explains, "With Kuehne+Nagel, we found a reliable partner who delivers the boats safely to our location in Lucerne. From customs clearance to monitoring of the shipment, we are relieved of all steps. We can thus concentrate fully on processing the delivery and, above all, looking forward to assembling the boats here on site without any worries".
One of the other big reasons why QuantBoats wanted to collaborate with Kuehne+Nagel was the responsibility we feel towards the environment. They realised, and appreciated, our commitment to sustainable development. As our client, they understood that the use of KN Pledge would enable them to further the environmental aspect of the sailing boats without worries or guilt. Sailing boats only use wind power to move in the water, and thus produce no additional CO2. Of course, they were aware that the boats cannot be transported to Switzerland by wind power alone, but as part of our Net Zero Carbon programme, they knew that we take great care to automatically make all KN Pledge deliveries CO2-neutral, since we invest in the development of nature-based projects around the world.